Our Mission
We are a group of parents, teachers, alumni and community members who believe that the performing arts are an essential part of public education. We advocate, provide volunteer support, and raise funds to ensure that thriving performing arts programs continue at Willow Glen Middle School and Willow Glen High.
Help support our performing arts programs by making a donation!
Check out our facebook page
Sign up to receive WGPAB email news !
Check out our latest news for audition announcements, info for upcoming shows, tickets-on-sale announcements, and other performing arts news.
Read More
The Crab Feast
Tickets on sale now!
WGPAB presents
2016 CRAB FEAST & AUCTION
February 27, 6-10:30pm
Scottish Rite Center – 2455 Masonic Dr., San Jose, 95125
No tickets will be sold at the door. Must be 21+ to attend. Alcohol will be served.
Click here to purchase tickets.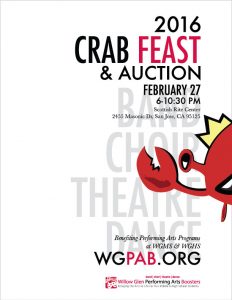 Our Crab Feast is our main fund-raiser for our performing arts programs.
PAB Meetings 2015-16
Please join us for our PAB meetings:
August 27 (middle school library)
October 22
December 17
February 25 (Mickey Long Center (SIP))
April 21
May 19
Held at Mickey Long Library@WGHS, 7-9pm